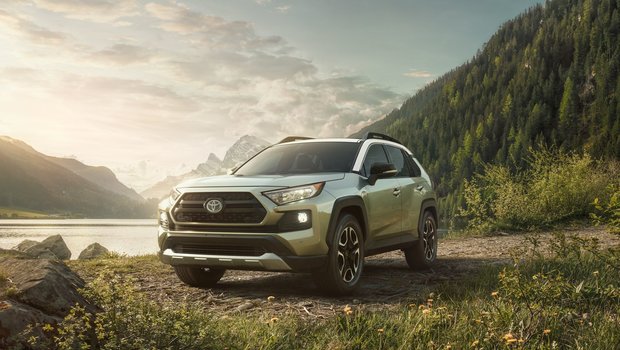 Laking Toyota
Just when you thought the RAV4 couldn't get any better, Toyota went and revamped the whole thing and unveiled recently at the 2018 New York International Auto Show. From all new looks to new performance, the 2019 Toyota RAV4 looks poised to strike … the competition potential buyers.
For starters, the designers at Toyota went all out and the bland, ho-hum looks of the previous generation are no more. In fact, the 2019 Toyota RAV4 looks downright aggressive in all the right ways. Angular lines, an all-new front fascia and dynamic overall silhouette have totally changed the character of the RAV4 – for the better. Racier, urban, modern; all the adjectives are applicable to this all-new look. If nothing else, the designers at Toyota have finally brought the RAV4 squarely into the present and even the future.
Along with an all-new look, the 2019 RAV4 has also grown in size for more convenience and practicality. It's gained 1.2" in wheelbase, now has a wider track, and has half an inch more ground clearance. Toyota's also pushed the wheels to all four corners which means the overall length has shrunk by 2.6", and the overall new architecture means you can put 19" wheels on the 2019 RAV4.
Now, that's not all Toyota changed on the 2019 RAV4. For this model year, they changed out the outgoing 2.5L inline-four for Toyota's all-new Dynamic Force 2.5L inline-four with direct and port injection and VVT-iE. Currently, this engine is found in the all-new Camry and produces 203 horsepower and 184 lb-ft of torque, so it stands to reason that the all-new RAV4 will see similar output numbers. Also, the outgoing 6-speed automatic has been replaced with an 8-speed, as well.
Inside, the 2019 Toyota RAV4 sees updates in all the right way with a standard 7.0" infotainment screen (and optional 8.0" with navigation and satellite radio) that offers Apple CarPlay and Android Auto, and there's even available Alexa and WiFi connectivity (just like in the new Camry).
To find out more about the all-new 2019 Toyota RAV4 ad everything it has to offer in terms of design and technology, head down to your local Laking Toyota dealer to speak to one of our experts, and don't forget to book a test drive as soon as the new RAV4 is available in dealers much later in the year.