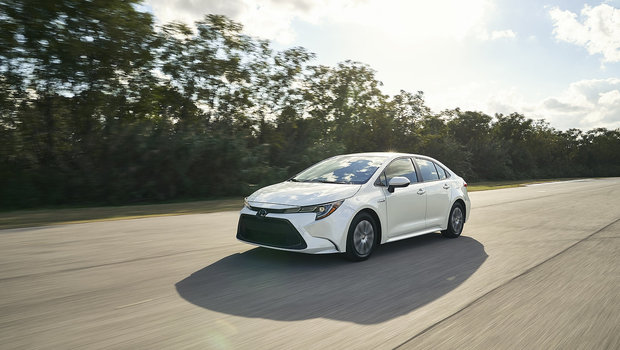 There's a reason the Toyota Corolla is the best-selling car in the world. No joke. There are more Corollas on the road than any other car. Why you ask? Well, not only is it a well-built, reliable and long-lasting car, it also answers all vehicle-owner needs in a simple, no-fuss manner.
But how do you "reinvent the wheel" so to speak and keep a car like the Corolla relevant and on top in an automotive world rife with forward-thinking and revolutionary manufacturers?
Well, you bring it right up the future with the rest of them.
Introducing the 2020 Toyota Corolla Hybrid.
Since it's inception in 1966, and after 12 generations – yes you read that correctly, 12 – the Toyota Corolla features a hybrid version for the first time. This all-new version of the Corolla features the same engine and drivetrain as the current generation Prius – a 1.8L hybrid and CVT – and is actually priced lower than the hybrid granddaddy.
What's really great about the 2020 Toyota Corolla Hybrid is that it's not that far removed from the gas-powered Corolla millions of people have come to know and love (and subsequently drive). And that's ideal, because it's the familiarity of the interior that makes the Corolla so great. Comfortable and functional, the interior has enough room for up to 5 passengers, and the cargo space is decent, too with 368 litres of trunk space.
Peformance is not the name of the game when it comes to the 2020 Toyota Corolla, but fuel efficiency is. While the 2020 Toyota Corolla equipped with a new 2.0L engine achieves 6.7L/100km combined, the Hybrid version can reach 4.5L/100km combined. And with the way gas prices are going lately, that's something to take note of.
To find out more about the all-new and first ever 202 0 Toyota Corolla Hybrid, head over to your local Laking Toyota to find out more about this Prius rival and all it has to offer. And don't forget to ask about a test drive when they arrive.