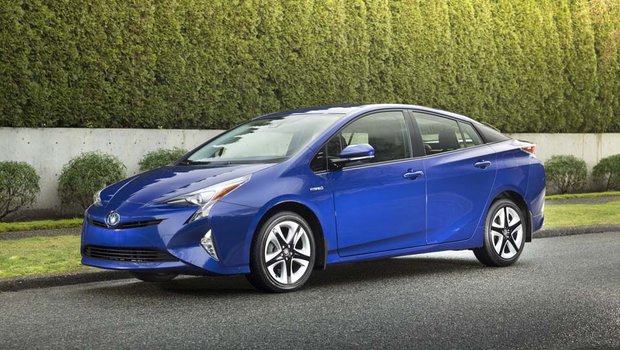 Laking Toyota
The new 2017 Toyota Prius along with the 2017 Toyota RAV4 Hybrid compact SUV were named the Canadian Green Car of the Year and Canadian Green Utility Vehicle of the Year respectively this week at the Vancouver International Auto Show.
Both awards are in their second year and are handed out annually by the Automotive Journalists Association of Canada (AJAC). Each award aims to recognize cars and utility vehicles that stand out in their segments as well as in the industry for their fuel efficiency and green technologies.
"Our panel of 60-plus voting journalists sequentially drives every vehicle in a testing category, and their scoring is combined with objective data like cargo space, braking test figures and emissions. Scores are weighted for relevance to the vehicle category in question," says CCOTY Co-Chair Justin Pritchard. "Our Canadian Green Car of the Year and Canadian Green Utility Vehicle of the Year entries are selected from amongst standard entries that meet specific fuel efficiency criteria. Our voting panel casts a separate ballot for these models, focusing on Green characteristics including range, recharge/refuel time and price. That's combined with the overall CCOTY score—that is—how the vehicle stacks up to its competition. Today, Green cars come in many shapes and sizes, and this testing process ensures we take that into consideration".
The 2017 Toyota Prius which starts at $27,190 beat out the Chevrolet Malibu HEV as well as the Kia Optima HEV to claim the prestigious award. The 2017 RAV4 Hybrid ($34,455) finished ahead of the Mazda CX-9 and Subaru Forester in its segment. The Prius is one of the most recognized hybrid vehicles on the planet, and this year it has been completely redesigned and boasts an average fuel consumption rating of just 4.4 liters per 100 kilometers in the city.
The 2017 RAV4 compact sport utility hybrid offers 194 horsepower and an average fuel economy rating of just 6.9 liters per 100 kilometers in the city even if can tow up to 795 kilos.
Toyota Safety Sense P comes standard
Both models come equipped with Toyota's Safety Sense P suite of active technologies which feature adaptive cruise control, pre-collision system with pedestrian detection, lane-departure warning and adaptive headlights.
"Toyota is committed to maintaining its leadership position in designing, engineering and building environmentally-advanced vehicles that meet the many demands of today's drivers – which is why the 2017 Prius sets new standards for efficiency and emissions even as it provides owners with more style and driving fun," said Cyril Dimitris, Vice-President, Toyota Canada Inc. "We're delighted that members of AJAC agree, and thank them for this important award."
To learn more about the 2017 Toyota Prius or the 2017 Toyota RAV4 Hybrid, contact us today at Laking Toyota!